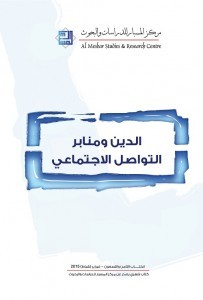 In Al Mesbar Center's ninety-eighth monthly book, Religion and Social Media Platforms, we attempt to answer some urgent questions on a topic of special concern to the region. It is the first of a two-part series, covering a relatively new phenomenon, essentially going back one decade. It is also a phenomenon with negative effects, namely support for terrorism and Islamist parties with a maximalist agenda — but also some positive effects, less will known in the West.
The power of social media first emerged in the Middle East during the "Green Revolution" in Iran, which some activists dubbed the "Twitter Revolt". The "Arab Spring" went on to demonstrate the power of social media again, in communicating bold ideas and information, and affecting profound change on the ground. The number of individuals, organizations, and parties using this new tool continues to increase dramatically.  
Religion has long been present on the Internet, via websites explaining a given faith, defending it from opponents, and reaching out to prospective converts. Radical Islamist movements were among the "early adapters": They used the new medium to evade government control in advancing their political activities. In doing so, they achieved a margin of mobility in conveying radical ideologies to a broad public. Moderate Islamists, for their part, were less active; its leaders initially failed to recognize the power of social media. But traditional and moderate Islam eventually developed their own, more constructive presence online.    
The research topic of the most pressing concern at the moment is of course religious extremism — and that of the "Islamic State" or "Da'esh" in particular. The group has  demonstrated great prowess in using social media to recruit individuals to join its fighting ranks, as well as support the organization through subversive activities far beyond the battlefield. But this aspect will be tackled in part two of our research. In the first part, we address phenomena we believe also to be worth studying and assessing: Social media, we find, has influenced the very nature of religious authority in the Muslim world, and the relationship between the a Muslim seeking a fatwa (Islamic edict) and the clerics who compete to provide it.
Social media has enabled lay Muslims to communicate with a large variety of clerics anywhere in the world, allowing them to select which fatwa suits them best, from the cleric closest to their line of thought. Through social media, many clerics have managed to attract thousands thousands of new followers. For the followers' part, the interaction has also influenced their sphere of interest: In the past, most Muslims had taken an interest mainly in local matters with bearing on them as individual adherents to the faith. Now, due to the vast freedom of cyberspace, discussion revolve around numerous, broader topics. A new and sweeping religious awareness has developed, of the polemics of religious reform and reinvention. It is also an awareness, alas, of shifts toward greater intolerance and violence. 
The use of social media by moderate Muslim institutions, both official and unofficial, is of the utmost importance in the Arab and Muslim world, as it is an important means which to appeals to the young generations which are the primary target of extremist groups. It behooves moderate Muslim voices to boost their presence on the Internet and social media, to enhance their contribution toward integrating Islam and modernity, strengthening a culture of tolerance, and countering fanatical doctrines.
Other studies of this topic have tended to be atomized — limited to the study of Islamist extremism online, or a particular sect or strand of the faith. We have chosen to establish a more comparative framework, widening the inquiry to include not only moderate Muslim activity but also the online presence of other religions. In particular, we examine the Eastern Orthodox Church, another major online presence. The messages which the Church conveys via social media have influenced its worships, as well as followers of other faiths.
Al Mesbar would like to thank all the scholars who contributed to this volume, as well as the editorial board — in particular, Ibrahim Nimer and Abdullah Hamidaddin, who coordinated its production.