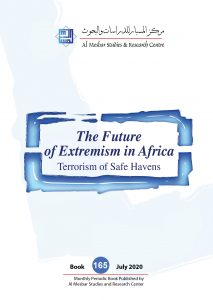 The Al-Mesbar Center for Studies and Research — in its 165th monthly book, The Future of Extremism in Africa: Terrorism of Safe Havens (September 2020) — takes a close look at terrorist organizations in several African countries, completing its series of studies on terrorism on the continent. This release highlights African terrorist organizations that rose to prominence after the fall of Islamic State of Iraq and Syria (ISIS), also known as Daesh.
Previous entries in this series included Muslims in South Africa: History-Groups-Politics (2011), Terrorist Factions in Africa: dimensions and strategies (2018), and Islam in West and Central Africa (2019). 
The book examines the expansion of the activity of prominent terrorist organizations such as Boko Haram (Nigeria), Young Mujahideen (Mozambique), and other groups with local origins but expansionary ambitions. Several of these groups came to experience a conflict of loyalties between Daesh and Al Qaeda, especially after Africa's security vacuum produced a safe haven for militants fleeing the fighting in Syria and Iraq.
The shift in loyalties between Daesh and al-Qaeda is a relatively recent development. Daesh's meteoric rise created a trademark brand which could be used by weaker local organizations to compete with stronger, better established groups, which tended to be affiliated with al-Qaeda. The relationship between local organizations has gone through a complicated phase that is affected by their external status, in terms of the relationship with Daesh or al-Qaeda.
The book begins by examining the factors behind the rise of violent Islamic extremism in Africa in general. It then touches on various interpretations seeking to explain the availability of safe havens in several African countries to which Daesh elements fled, following the fall of their so-called Caliphate in Mosul in Iraq, Raqqa in Syria, and later Derna in Libya. It goes on to offer possible reasons for the terrorist group's interest in the African continent and outlines the various activities of its branches and affiliates there. Several studies examine the history of this conflict, the alliance between ISIS operatives and Al-Qaeda, and the impact of that alliance on the emergence of certain leaders who came to compete with their old mentors. 
There was a view among some that ISIS's decline would herald the effective end of jihadist terrorism. However, the assessment of the rising terrorist threat on the African continent indicates that the threat has simply shifted elsewhere. Several studies note the emergence of seasoned domestic operatives who employ strategy and tactics analogous to those of Al Qaeda and ISIS in an effort to undermine their host state and its institutions.
A series of interlocking ethnic, social, religious and political factors complicates the understanding of the terrorist phenomenon as well as its ramifications for state stability in Africa. This amplifies the importance of closely studying the local context and pre-modern roots of each individual state, coupled with an institutional biography of terrorist organizations as they arise. 
Africa faces major security threats stemming from the proliferation of Islamist extremism, which has contributed to its destabilization. Several studies seek to analyze this dynamic of violence, which benefits from state fragility and weak security services, as well as pre-existing conflicts arising over control of the continent's resources. These studies are careful not to lose sight of the ideological roots of Islamist extremism, exemplified in the Islamist literature that penetrated Central and South Africa beginning in the 1960s.
The book also covers regional and international strategies among African countries for cooperating in the fight against terrorism, beginning with the efforts of the African Union and Gulf Cooperation Council, with critical input as well from the United States, the European Union, Russia, and China.
The studies are premised on the observation that terrorism is gaining strength in a number of African countries. Certainly this premise flies in the face of an oft-heard hypothesis that the disintegration of ISIS's physical caliphate would inevitably entail the decline of terrorism overall. However, the facts in this work point in the opposite direction, as several regions in Africa have provided safe havens for ISIS remnants, which have then gone on to ally with local extremist organizations. Some of these may portend a more radical future, one which calls for an ideological solution to the dilemmas of marginalization and failures of governance.
In conclusion, the Al-Mesbar Center for Studies and Research thanks all the researchers participating in the book, especially our colleague Mohamed Mokhtar Qandil, who coordinated its production.
Editorial Board
September 2020
TABLE OF CONTENTS