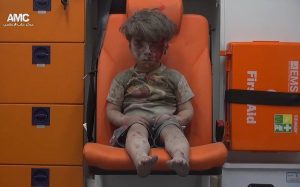 by Adam Garfinkle
Love breaths its deepest within us at quiet times of dim light and easy breezes, moments of gentle touches amid aromas of spice and strong tea. But heartbreak en masse prefers flashes of brightness and thunder amid odors of gunsmoke and superheated concrete dust. So it is in this early winter of heartbreak in Aleppo and Mosul, where children of Abraham shudder in tears and fear.
I am not an Arab. I am a Jew who lives in America, far from this convolution of madness and pain, of panicked confusion and desperate survival-mandated numbness. But if my bones and flesh repose in America, my spirit and heart are never far from the sources of whatever sparks of holiness my life detects. And those sources recall almond blossoms and thistle thorns, shank bones of lambs and sweet sumac, sand and stones more numerous, it seems, than the stars of heaven—a place of friends and family today no less, if differently, than three thousand years ago.
So in the papers and on the radio here they say Aleppo has fallen, and so soon will Mosul. We in the West think we know the good guys from the bad—so one fall is tragedy and the other redemption. It is often spoken of here as would be a sporting match. But what ordinary people in Mosul experience, hammered between fanatics who shoot them if they blink or smile and alien militias who pretend to care about them, is not suited for sport. The raw cynicism and desperation of Aleppo has been too complicated for most readers here to be bothered with or for most journalists to parse—besides, it has dragged on long past the point of novelty and hence interest.
But you must remember that, for all that has happened during the past two decades, most Americans still cannot distinguish between a description for an ethno-linguistic group (Arab, for example) and for a sectarian affiliation (Muslim, for example)—let alone the difference between Arab, Read more.