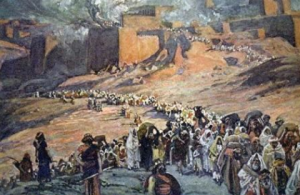 by Adam Garfinkle
Once upon a time, here and there if not everywhere, Muslims, Christians, and Jews lived in towns together and, while keeping their versions of Abrahamic beliefs and traditions apart, managed still to share knowledge of and even some merrymaking amid each other's holidays. Over many centuries—again, here and there, if not everywhere—people figured out how to weave their particularities into universal human themes at least once in a while at times of joy and celebration. Even when official toleration was much rarer than mere forbearance, many ordinary people used their common sense to get along, do business, occasionally share a snack or a drink, and acknowledge the common humanity of their neighbors. Harun al-Rashid's Baghdad; Almoravid Córdoba; medieval Fez; even more recent Cairo, Damascus, Basra, Tunis, Beirut—here and there, if not everywhere, at least at some times if not at all times.
Alas, even as the diversity of the Middle East wanes, common sense has in more recent times fallen prey to demagogy, bitterness, and the wiles of opportunistic entrepreneurs of bigotry. This past winter in Iraq, I am told, some Sunni clergy went out of their way to warn their charges not to go near any Christmas celebration, nor greet Christian neighbors on that day as has for centuries been a custom in many places. Some Orthodox rabbis in the United States warn congregants not to let their children go trick-or-treating on Halloween, as if anything at all still remains of the religious origins of that eve. These counsels are not as heinous as some extremist Christian clergy in America urging the burning of Qur'ans, but it is all tragic, all a form of spitting upon our capacity for mutual empathy.
It also wastes lessons that we need, for every time-honored religious holy day has its universal message even as it is embedded in a particularist culture. Need a Muslim or a Jew take umbrage at the Christmas message of "peace on earth, good will toward men"? Read more.