Preface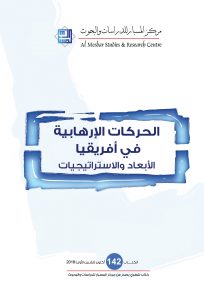 Africa has been suffering high levels of terrorism in recent years, emerging as a major challenge in different regions of the continent. These terrorist groups are diverse in terms of their activities and motivations, networks, as well as carrying widely divergent security implications. They range from jihadist groups such as Boko Haram in Nigeria and the Mujahideen Youth Movement in Somalia, to Christian extremist groups like the Anti-Balaka in the Central African Republic and the Lord's Resistance Army in Uganda. These and other extremist militias undermine political and security stability, threaten social cohesion, and increasingly pose a risk of evolving into dangerous transnational terrorist organizations.
Since independence and the end of colonial era, successive governments in several African countries have failed to consolidate the foundations of a powerful state. This structural vulnerability contributed to the emergence of the "groups of death", which exploited weak political regimes, economic marginalization, tribal and ethnic conflicts, as well as overlapping networks of religion, tribe, ideology and ethnicity. All these factors and others require merit extensive study so that we may reach a fuller understanding of terrorism in the African context leaning on methods beyond the traditional. This study demonstrates that the foundations for a proliferation of terrorist groups were laid by the intersection of extremist religio-political agendas with local governments' inability to modernize social structures or cope with the complexities of tribal structures.
Terrorism in Africa: Dimensions and Strategies, Al-Mesbar Center's 142nd monthly book (October 2018) researches terrorist movements in a number of African countries.It identifies the historical conditions as well as social, political and regional factors that led to their emergence, with a view to developing strategies capable of exploring the root causes of the terrorism.This task is especially vital since since African countries do not share a unified counterterrorism strategic vision.
Undoubtedly, the "colonial legacy" has negatively affected the social, tribal and ethnic fabric in Africa, leaving behind countries vulnerable to extremist ideologies and wracked by internal dysfunctions that facilitated the spread of radical religious organizations, both Islamist and Christian. This book also argues that "the failure of the African political elites to manage diversity and resources, and achieve social integration, not to mention disappointing the aspirations of the African peoples post-independence" has exacerbated terrorism. Dictatorship, war, ethnic hatred, diminishing resources, disease, over-population and a myriad of other problems, will continue to plague the continent, resulting in legions of disenfranchised young people looking for a way out of the misery. With this background in mind, counterterrorism policies should start with economic development and social planning that can facilitate societal modernization, and rebuild trust in the state institutions. The author argues that such policies implicitly should address social justice, political transparency, fighting corruption.
On the other hand, counter-terrorism in Africa also requires greater coordination, both among African countries and between their international partners. In this context, this publication's diverse studies suggest a dual approach "combining hard power and soft power to dry out the sources of terrorism", and establishing a unified African counterterrorism strategy, that includes the consolidation of regional military forces of the continent, such as in Chad Basin and the ECOWAS Group.
Focusing on different terrorist groups in the Central African Republic, Nigeria, Mozambique, Somalia, Mali and Uganda, one study offers a comprehensive insight on their origins, ideologies, and activities. Further, it provides a thorough analysis of the tribal, ethnic and religious impacts on the transnational terrorism phenomenon, as well as regional and international circumstances.
Over the past several years, the Central African Republic (CAR), has descended into sectarian violence which has claimed the lives of thousands and displaced over a million. In a situation which risks descending into a de facto ethno-religious cleansing, there are two main active radical groups in the country: Ex-Séléka (Islamist) and Anti-Balaka (Christian). Both are among the continent's bloodiest militias and both embrace an extremist religious ideology. The first adopts the most violent views of Islamic jurisprudence, believing "Islam is the Sharia of war" and that "It is obligatory to fight every 'infidel'" group that does not conform to "Islamic values".Naturally, this makes attacks on Christians religiously obligatory. Similarly, the Anti-Balaka militia takes advantage of certain Biblical verses, interpreting them out of their historical context in order to justify acts of violence against Muslims. One of this book's studies provides a wide overview of both groups, supported by both internal and external data It also offers an extensive discussion of the policies and initiatives pursued by neighboring countries aiming to contain and eliminate them.
Contributors in this issue also shed light on The Lord's Resistance Army (LRA), a rebel heterodox Christian group which operates in Uganda, and the Mujahideen Youth Movement in Somalia, presenting an in depth reading of their historical and ideological backgrounds, and highlighting various ways of confronting both.
In the case of Mozambique, one of the included papers examines the conflict by focusing on different levels: the roots of that country's civil war; internal, regional and international changes and their impact on newly emergent crises; the religious dimension and how it grew increasingly prominent; and finally the future of the conflict and possible scenarios.
The jihadist organizations in Mali are no less dangerous than those in other African countries. In addition to their extremist religious background, they are connected with other Islamist organizations, such as Al-Qaeda in the Islamic Maghreb (AQIM), which originated from the Salafist Group for Preaching and Combat (GSPC) in Algeria. One paper examines this group's evolution as well as its ambigious relationship with Ansar al-Din, founded by Tuareg leader Iyad Agh Ghali in 2011. Further complicating the picture are the group's ties to al-Mourabitoun, an African militant jihadist organization formed by a merger between Movement for Tawhid and Jihad in West Africa and the Signed-in-Blood Battalion led by Mokhtar Belmokhtar.
Boko Haram is a top-tier threat to Nigeria, Africa's most populous country Unfortunately, that state has failed to effectively address its conflict with one of the most violent among jihadist organizations in Africa. Al-Mesbar's researchers also delve into the historical circumstances from which this extremist group emerged, synthesizing different theories that explain its economic, social and religious roots.
Finally, the book submits a statistical study on social diversity in Morocco, a country which historically lies atthe crossroads of different civilizations and cultures. In recent years the public institutions have been dedicating more efforts to further of the country's internal cohesion and managing its cultural diversity in a positive and fruitful way.
Al-Mesbar Center would like to thank all the book's contributors — in particular, our colleagues Farida Bandari and Ibrahim Amin Nimer, who coordinated its production.
The Editorial Board