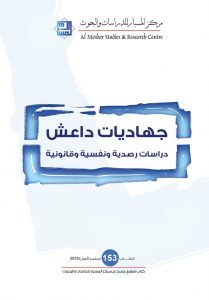 The participation of women in jihadist organizations has sparked debate in the media and at research centers specializing in terrorism studies. This is especially true with the emergence of the Islamic State (ISIS), which attracted a significant number of women from countries in the Middle East, North Africa, and Europe. Despite divergent statistics on the numbers of women involved in ISIS, the years 2014 – 2018 witnessed a substantial increase in their recruitment rate. This came as a surprise to many, and seemed to indicate a new evolution of jihadist recruitment.
In its latest monthly book, ISIS's Female Jihadists: Observational, Psychological, and Legal Studies (Book 153, September 2019), the Al-Mesbar Studies and Research Center examines the factors that have led women to join ISIS, defining the role of preachers in Islamist movements, and women's role in the propagation of violent extremism. The book conducts these analyses from a multidisciplinary standpoint, seeking to approach the phenomenon from a number of different methodologies: social, historical, psychological, and legal.
Women's participation in terrorist organizations is not a novel phenomenon. Al-Qaeda had previously invited women to join, but their role remained confined to outreach and ideological activities, without any combat or military duties. That is, until Abu Mus'ab al-Zarqawi invited women to engage in combat operations, culminating in the spate of suicide attacks which crescendoed in 2006.
Paradoxically, according to the "jurisprudence of jihadi activists," their conflicts over the roles assigned to women, where Al-Qaeda was conservative regarding their military activities, women's "dynamic jurisprudential debate" emerged at ISIS to motivate women to perform untraditional tasks. It is noteworthy that women who had joined Al-Qaeda and its affiliates lobbied from within the organization to assume combat roles.
So, what drives modern European and Arab women to heed the call of extremist terrorist organizations? And what scientific tools exist to understand this recent phenomenon in the realm of extremism studies? Is it possible to view it as a departure from modernity? Or is it rather an expression of modernity, given how European muhajirin played a leading role in ISIS? Why do educated Western women with access to advanced health and education systems seek to return to a premodern order? The book devotes three studies in a bid to answer these and other questions, seeking to explain and analyze the membership of women in ISIS from a psychological standpoint.
The book also focuses on attempts to uproot extremism within Europe and Arab countries with respect to women. In so doing, it highlights the role of both the state and civil society in the rehabilitation and reintegration of women who have been implicated in terrorist organizations, specifically ISIS.
The involvement of Europeans in ISIS amounted to a milestone in the history of terrorist organizations. Numerous interpretations and analyses have sought to understand the reasons driving many Europeans of relative affluence to relocate to an environment of relative deprivation in pursuit of ISIS's promises of utopia. The case studies highlighted within this book invite the reader to ponder the dilemma from multiple angles; the recruitment of Europeans to the Islamic State did not take one single path, and thus cannot be analyzed from the confines of a single framework.
Female Jihadists of ISIS also touches upon women's non-combat activities within ISIS, such as online outreach and the recruitment of new members through social media platforms. Additionally, there is an analysis of the formation of a female religious police force, known in Arabic as the "hisba." They also played a prominent role in raising a generation of child fighters imbued with the principles of the Islamic State.
The book also includes a study titled "Jihadist Feminism: Limits and Dilemmas of the Term," which seeks to analyze and critique theories put forward by scholars such as Iranian-French sociologist Farhad Khosrokhavar, who authored the concept of the "image of French and Western Jihadism." Briefly summarized, the newly coined term, 'jihadist feminism,' is an expression of a class of European jihadists that can be viewed as part of a post-feminist backlash. This movement harbors retrograde tendencies, to say the least, compared to the standards of the contemporary feminist movement.
Other topics covered within the book include the image of jihadist women in Arab and international media. Stories of female activists within extremist groups, which spiked during the years of ISIS's meteoric rise, have drawn the attention of both Arab and Western media. In large part, the appetite for these stories relates to stereotypes of gender representation.
Al-Mesbar Studies and Research Center extends its gratitude to all the researchers involved in the book, especially Rita Faraj, who coordinated its contents.
Editorial Board
September 2019