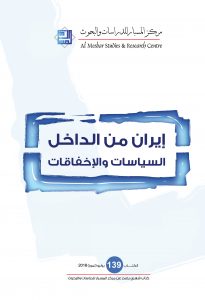 Iranian studies have flourished in recent decades and become a central field of inquiry for Arab and Western researchers, strategists, and intellectuals with a focus on the Middle East. This interest grew after 1979, when the twentieth century's first-ever "Islamic revolution brought a religious system based on "The Rule of the Jurist (Wilayat al-Faqih"(. Iran's efforts to expand its regional influence and excessive interference in the internal affairs of several Arab countries have increased the volume of research and publications on the country.
Iran From Within: Policies and Failure, Al-Mesbar Center's 141st monthly book (July 2018), traces the political and economic situation in the country since protests rocked numerous Iranian cities in late 2017. It also considers the consequences of Washington's withdrawal from the "Iranian Nuclear deal" (the Joint Comprehensive Plan of Action) signed by the Islamic Republic, the United States, China, Russia, France, Germany, and the UK) on April 2, 2015. The book is the first in a two-part series.
Following the brutal suppression of Iran's "Green Revolution" in 2009 — an outgrowth of protests over rigged presidential elections which granted Mahmoud Ahmadinejad a second term — a growing number of activists moved from a strategy of systemic reform to calls for regime change. This tendency manifested in new opposition groups, such as the Nademoun (Repenters) Movement. In 2017, Nademoun expressed remorse for previously supporting President Hassan Ruhani. The movement first found expression in "virtual platforms." As widespread economic problems grew especially burdensome on Iranian citizens, spurring a new wave of protests, Nademoun moved from the Internet onto the streets. As economic conditions worsen even further in the wake of renewed U.S. sanctions on Iran, a further wave of protests appears likely.
The book also delves into Iran's military institutions. One of its studies suggests how Iran's state ideology and expansionist policy effectively limits and drains its military capabilities, effectively exposing it to external political and economic pressures. The study also shows how the military has become a party to the internal conflict over dominance of the state.
Within Iran's security sector, the Islamic Revolutionary Guard Corps (IRGC) functions as a kind of "holding company." Beyond its formidable security, intelligence, and policing operations, it also dominates a range of political and economic institutions, inviting the widespread view that it is almost a "parallel state."
President Hassan Rowhani, whose promises since gaining power in 2013 included improvements to the Iranian economy, has disappointed voters in this regard. The economy currently suffers from currency depletion, negative growth rates, and inflation exceeding 35% percent. The book reflects on Iran's economy crises, their causes, and their consequences.
The book also treats Iranian regime polices towards ethnic minorities, from 1979 to the present, as well as the future of political and religious leadership among these communities. It addresses, as well, the question of succession after the eventual passing of Supreme Leader Ali Khamenei. Some experts predict that the Iranian regime could lose much of its authority after the death of its "mentor," which would weaken its ability to project influence and limit its regional ambitions.
Al-Mesbar Center would like to thank all the book's contributors — in particular, our colleague Mohamed Mohsen Abu El Nour, who coordinated its production.